Ginger tropical amazake granola
Looking for  healthy, easy and delicious  summer breakfast recipe for your summer? T
his tropical ginger amazake granola is made low sugar and great for you if you watch your blood sugar but also want to enjoy granola for your breakfast or as a snack.
It is gluten free and sugar free, lightly sweetened with Amazake, Japanese fermented rice drink.
Granola is not only one of my favorite food to eat but also favorite food recipe.
Granola is basically made with oats, sweetener, and some kind of fat/oil with addition toppings and depending on which or what kind of ingredients and changing the ratio of the ingredients you can create countless variety of recipes. 
This is a lot of fun!!
This  also means that you can make it healthier or less healthier depending on how you make it.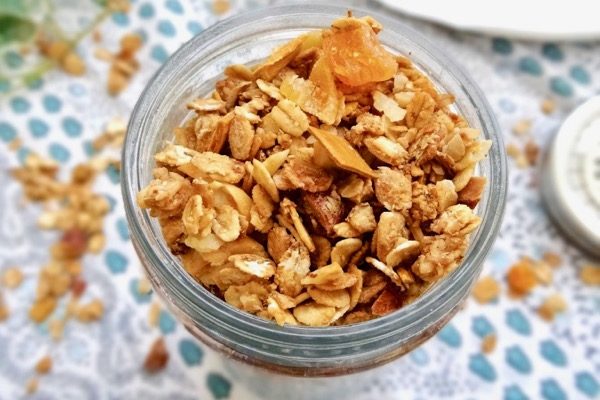 When you google granola recipe it will give you thousands of result. 
Some look so attractive and sounds so delicious but are high in sugar or use less healthier ingredients and you may not want include it as your regular breakfast.
Others may use "perfect" ingredients  or are categorized as "perfect" diet style but may not taste as good or has less pleasant texture and not be something that you  look forward to when you wake up.
If you use a lot of sugar or make the food fattier it will be appealing to your taste buds but your body may not function optimally if your diet is consist of only these foods. 
It is not just in granola case but also other recipes but my mission is to create recipes that would support your body (a.k.a. "healthy") as well as make your soul happy (a.k.a. "delicious").
In case of creating granola recipe the goals is to make it;
sugar free
gluten free
less sugar
flavorful 
satisfying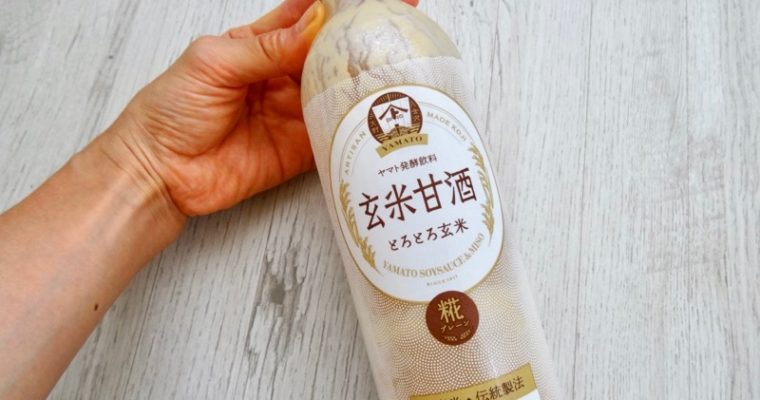 granola and blood sugar problems
Granola is such a convenient food for busy mornings but the downside is that they are high in sugar (!) even if the package/recipe says it is "healthy" just because they have super foods in it. 
When you eat food that is high in sugar your blood sugar spikes. To compensate this too much insulin is released and as a result your blood sugar drops too low. 
 You may experience dizziness, brain fog, inability to concentrate, or becoming irritable if your blood sugar gets too low craving more sugary food.
Have you experience these symptoms after eating store bought granola? This is mid morning crush!!
And if this cycle continues your blood sugar becomes unstable and can lead to many other health problems including diabetes, obesity, hormonal imbalance, heart problems and many others.
how to make granola healthy and yummy
So what ingredients did I use to meet my goal to make healthy and delicious granola?
gluten free rolled oats
organic coconut oil
Amazake (instead of sugar)
dried tropical fruits
organic ginger spice
roasted mix nuts
oats;
Whole oats are great source for fiber that support your gut health and contains vitamins, folate and minerals such as iron and magnesium.
You may want to look for "gluten free" whole rolled oats for your guts health sake especially if you know you have adverse reaction to gluten.
Coconuts oils;
Coconuts adds a really nice and sweet flavor to the granola and keeps granola from being "boring" even with less sugar content.
Other reason that I like to use coconut oil for any baking is because it is heat stable,  consists of fatty acids that are known to have many health benefits.
Amazake;
As a sweetener I used Genmai Amazake (玄米甘酒, a Japanese ancient drink which is made with fermented rice.
(Check my Gluten free carrot zucchini muffins  and
Gluten free zunda (emamae) filled muffins
to know more about  Amazake and its health benefits!)
Amazake can be made from white rice or brown rice (Genmai/ 玄米).
They don't taste much different but I prefer to use brown rice one because they  contain more vitamins and minerals than Amazake that is made with white rice.
Amazake has less sugar compared to other natural sweeter such as maple syrup or honey and as a result, this ginger tropical granola is much less sweeter than regular granola or even many other homemade "healthy" granola recipe.
You can add maple syrup or honey if you want it to be sweeter but I would not suggest to do so especially if you eat them regularly as a breakfast.
Your taste buds respond to the intensity of stimulants so if you eat high sugar/ salt it will wants more of them. The good news is that you can train your taste buds.
If you keep eating the food with less stimulants (sugar or salt etc)  your taste buds will become more sensitive and  satisfied with less sugary taste.
Not only Amazake has less sugar but also contains the sugar in the forms that our body can use easily and will be used as a fuel more effectively than many other sweeteners.
Together with many other benefits they make Amazake healthiest sweetener options for your baking!
Nuts;
Not only adding nuts enhance the flavor of granola but also  nuts  helps prevent blood sugar spikes because fats and proteins slow the release of sugar into blood streams.
Nuts keeps satisfied longer so they are the "must" food to include in granola recipe !!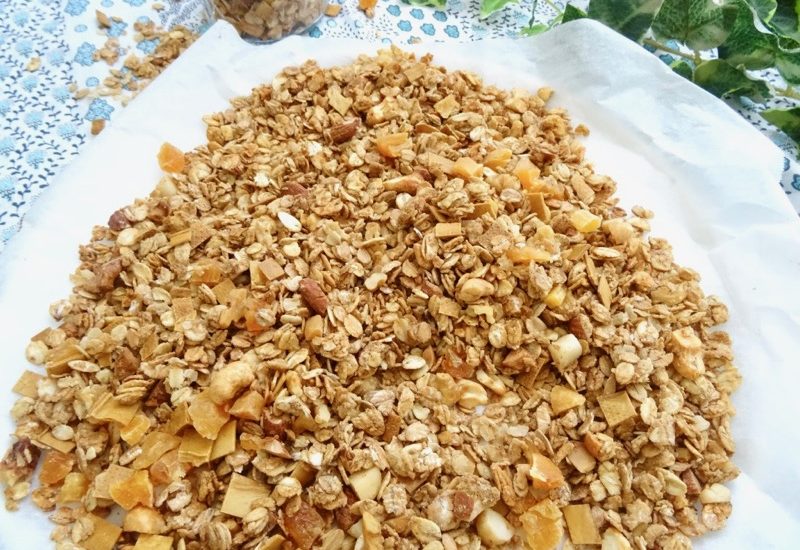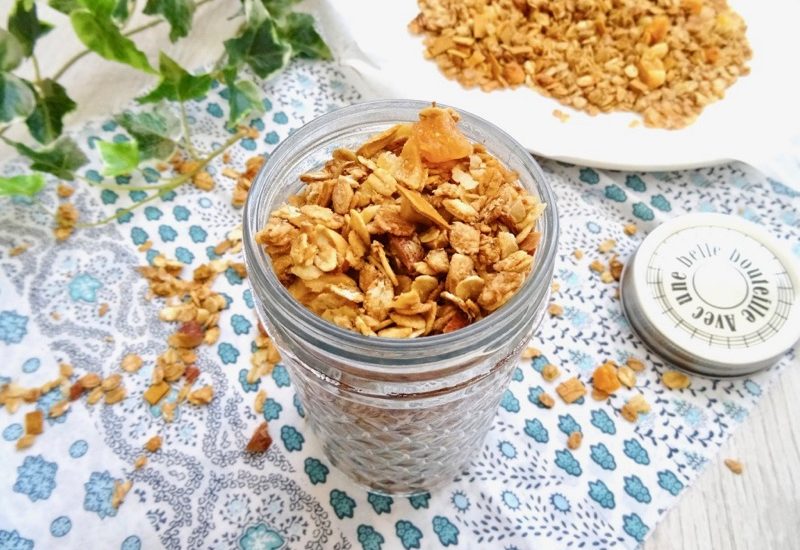 My friends often say "I didn't know that granola is something that you can actually make at home!!" when I give them my homemade granola as a gift.
Oh yes,  not only you CAN make it but also it is very EASY!!
All what you need to do is;
prepare ingredients
mix them in a bowl
and bake them
Isn't that so simple!?
If you are looking for summery breakfast recipe,
If you are looking for actually "healthy" granola recipe,
If you are watching your blood sugar but also want to enjoy granola in the breakfast,
If you are interested in making your first granola that is healthy,
then, this is the right granola recipe for you!!
I hope you enjoy my low sugar amazake granola recipe. let me know your experience if you try it.
I am looking for hearing you!! x
Ginger torpical amazake granola
Looking for  healthy, easy and delicious  summer breakfast recipe for your summer? This tropical ginger amazake granola is made low sugar and great for you if you watch your blood sugar but also want to enjoy granola for your breakfast or as a snack.
It is gluten free and sugar free, lightly sweetened with Amazake, Japanese fermented rice drink.
Ingredients
Dry ingredients;
2

cups (180g)

Rolled oats

- choose gluten free if you need

1

tsp

ginger spice

1/2

tsp

cinnamon

1/4

tsp

sea salt

1/2

cup (75g)

chopped mix nuts, unsalted

- *see the recipe note below
Wet ingredients;
2

tbsp

coconut oil

1/2

tsp

vanilla extract

1/3

cup(80g)

甘酒

- **see the recipe note below

2/3

cup(80g)

dried tropical mix fruits

- ***see the recipe note below
Instructions
Preheat oven to 160℃ (325 °F).

Chop mix nuts and dried fruits. (It may be easier to use kitchen scissors to chop dried fruits.)

In a large bowl, toss together all dried ingredients.

In a small bowl mix coconut oil, amazake, and vanilla extract.

Pour wet ingredients over dried ingredients and mix evenly.

Spread oat mixture on a rimmed baking sheet. Bake total of 25-30 minutes.

(After 15 minutes from the start remove from the oven, stir well to keep it from burning.  Return the pan to the oven and cook another 5 minutes, stir once more and then bake for 5-8 more minutes.)

Remove from the oven. Add dried fruits and Let cool completely.
Notes
*I used pre-packed mix nuts but you can use your favorite nuts too.
**Each amazake has different consistency depending on the companies. You may need to adjust the amount of liquid accordingly. If you find the granola mixture is too dry try adding more coconut oil or apple sauce so that the dry ingredients are coated evenly.
***I used pre-packed tropical mix. You can blend your own tropical dried fruits instead such as pineapple, mango or papaya. Chose organic one if you can because dried fruits are often added with sugar, refined oil or artificial additives. 
This post may contain affiliate links. It means that if you purchase products through that links, I get small commission from the company. You will not lose anything by doing so!
This recipe and content of this blog are created by Living My Nature. Please refrain from using it as your own and contact me if you would like to share.
Thank you!
---
---