Japanese inspired healthy Hawaiian garlic shrimps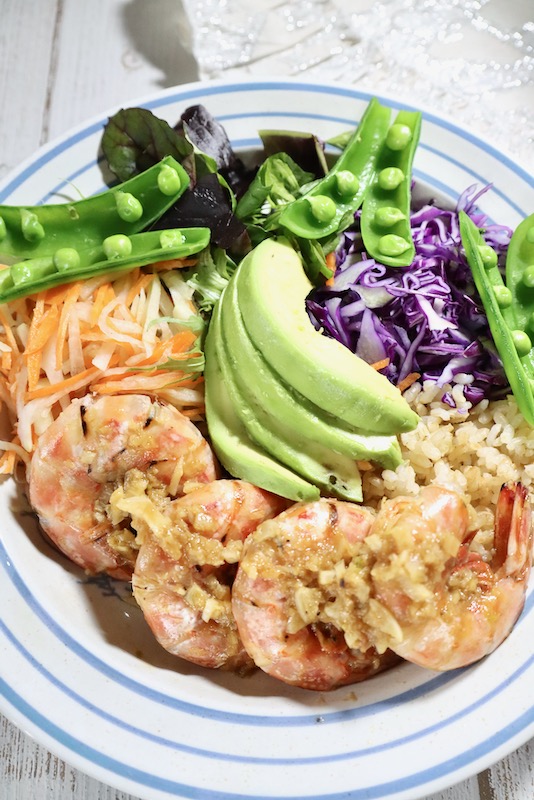 Popular Hawaiiam garlic shrimps made into healthy dish with Japanese ancient wisdom fermented food, shio-koji & soy sauce !
I was craving something garlicky, dense and also fresh and Hawaiian garlic shrimp popped into my mind.
But traditionally garlic shrimp comes with ocean of oil and/or butter sauce to make the dish more "appealing" to our taste buds.
But actually this is the problem of modern unhealthy foods such as many fast food, instant foods and many prepackaged snacks, right?
The companies add so much oil (often low quality), salt or sugar in food to make their products highly palatable so that everyone keeps coming back to their products.
The more you eat those highly palatable foods your taste buds becomes 'addicted' to these strong tastes needing more of them. It is vicious cycle, right?
When you eat natural and fresh food wit adequate amount of oil and seasonings, you do not need to eat more than your body needs.
But of course that does not mean the food has to be boring!
So my mission is to make make the dish attractive to the eyes, delicious but healthy at the same time  by make the most of flavors that each ingredient has.
So how did I made  this Hawaiian garlic shrimp healthier?
less fat
used coconut oil instead of dairy
used shio-koji
used soy sauce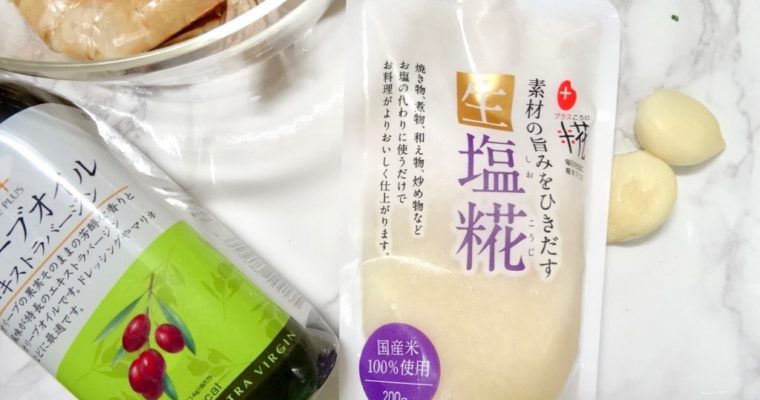 Shio-koji is a Japanese popular as all-purpose seasoning that is made with fermented rice. 
It makes the food tender, richer and more flavorful. Yes, shio-koji is versatile seasoning that works like a wonder!
Check this Shio-koji turmeric chicken blog for more information and shio-koji recipe idea!
I marinated shrimps in Shio-koji together with olive oil, coconut oil an garlic.
Shio-koji makes prawn tender adding mildness and richer aroma to the end product.
I used coconut oil instead of butter because;
A. dairy is highly allergic food
B. Most of conventional butter is from cows that are given lots of vaccines and hormones and butter (fat) is condensed source of them.  Even grass-fed butter would be healthier option but it still has natural hormones from the cow that could disrupt your hormonal balance.
I try not to labelling food "bad" or "evil" because I don't believe it is not healthy mindset. (and this kind of mentality can affect your body as a 'stressor' making your "effort" less effective)
So I may have butter once in a while if I don't have a choice, but it is just not in my regular diet. 
After marinating shrimps in shio-koji mixture you want to fry them in the pan.
Be mindful that the rice in shio-koji is broken down into simple sugar during fermentation making it prone to become 'caramelized'. 
So be careful to keep lower medium heat and not to make it too high because that is going to burn everything in the pan!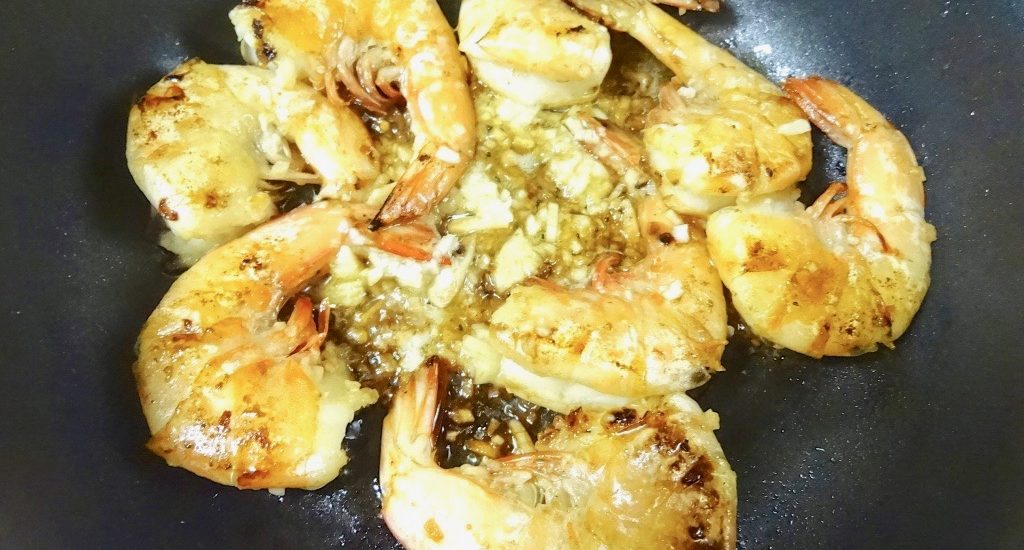 And the last "key" to make this garlic shrimp dish delicious and flavorful while being healthy at the same time is finishing the process with soy sauce!!
You may not be aware but soy sauce is another fermented seasoning made with rice koji.
Go to my Gluten free carrot zucchini amazake muffin blog and read the section of "HOW AMAZAKE IS MADE" to know little more about rice -koji.
The complex fermentation process during soy sauce production gives a distinct delicious taste and aroma.
So adding even a sprinkle of soy sauce to any dish, whether it is this garlic shrimp, other sauteed or fried dish, salad dressings, stew, curry or even a dessert(!), at the end of cooking gives the dish richness, mildness and full flavor that previously may have been "missing".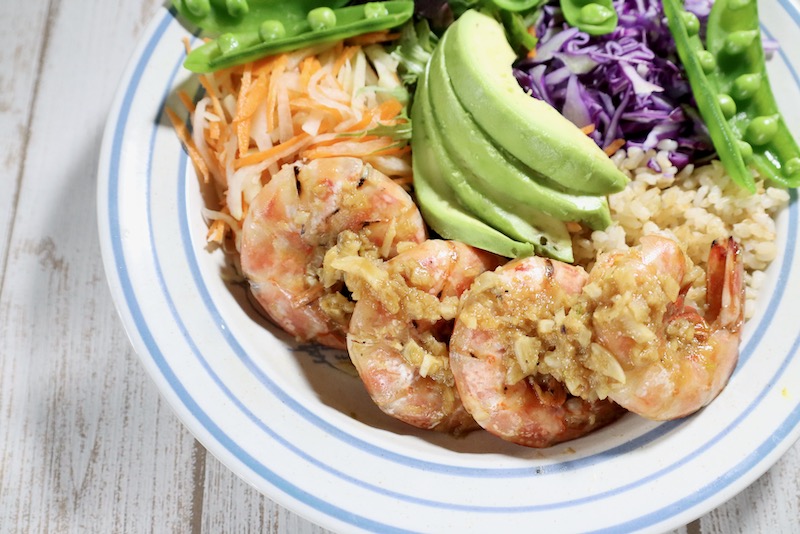 Just make sure that you buy "real" or "honjozo" soy sauce because most of cheap soy sauce contains may chemical additives to make them taste similar to soy sauce but without much health benefits from fermentation.
"In honjozo, the traditional Japanese brewing process used to make Kikkoman Soy Sauce, enzymes naturally break down soybean proteins. Hydrochloric acid is used in chemically produced soy sauce: it does not undergo any form of fermentation and is generally manufactured within several weeks."

"As a result, the color, flavor and aroma of chemically produced soy sauce are not natural—they are created artificially using corn syrup, salt, caramel coloring and other additives. It is no wonder that this completely synthetic soy sauce is inferior in every way to traditionally brewed Kikkoman Soy Sauce."
(Kikkoman's website under "What's difference?")
The real or honjozo soy sauce is made only with water, soy beans, wheat and salt. 
If you are gluten sensitive (such as having celiac disease or gluten allergy/sensitivity), make sure to get gluten free soy sauce or tamari soy sauce to avoid any reaction.
Also you would want to look for soy sauce that is organic or labelled as non-GMO in the ingredient list to avoid GMO contamination. 
Serve the garlic shrimp with plenty of fresh vegetables like red cabbage, carrots, lettuce and/ radish to gorge the goodness of their vitamins, antioxidants and fibers!
I used brown rice to complete dish beautiful dish but feel free to replace with quinoa or even sweet potato!!
This healthy and delicious Hawaiian garlic shrimp is definitely one of top favorite recipes of mine and will become yours too!
Try this recipe and let me know your experience.
I look forward to hear from you!!
Japanese inspired healthier Hawaiian garlic shrimp
Popular Hawaiiam garlic shrimps made into healthy dish with Japanese ancient wisdom fermented food, shio-koji & soy sauce !
It is easy to make yet has so flavorful that you can not even imagine. Enjoy this beautiful Japan inspired Hawaiian garlic shrimp with lots of fresh vegetables!
Ingredients
8

large shrimps (or prawn)

-

with shell, headless

3

tbsp

shio-koji

- See the recipe note

2

tbsp

olive oil

1

tbsp

coconut oil

- melted

3-4

garlic cloves

2

tbsp

cooking sake or wine

- this helps reduce "fishy smell" of shrimps

1

tsp

soy sauce

- refer the blog above to choose right one
To assemble; (option)
Any salad vegetables of your choice. I used lettuce, carrot, red cabbage, radish, and avocado

Cooked brown rice

- or quinoa, pasta, noddle, sweet potato...
Instructions
Remove heads if your shrimps have them and rinse with fresh water and wipe off excess water.

Make a 2-3mm depth slit along its back in each shrimp and devein.

In a bowl combine Shio-koji, coconut oil, olive oil, cooking sake/wine and chopped garlic.

Add shrimps in the marinade and mix them so that they are coated with marinade evenly. Leave them about 15-20 minutes.

Marinating shrimps not only helps shrimps to absorb the flavor of garlic shio-koji mix, but also helps shio-koji to "digest" (break down) the proteins in the shrimps allowing them to become tender and enhance the flavor. Please read Shio-koji Turmeric Chicken for more details.

While marinating the prawns prepare the vegetables and brown rice on your serving plates.

Heat the pan over medium heat ,then lay the shrimps with marinade in the pan in a single layer and let the shrimp cook for 3 minutes.

Once the shrimp are golden on the bottom, flip over and cook 2-3 minutes on the other side. About 20 seconds before turning off the head sprinkle soy sauce over the shrimps.

*It is easy for the marinade to become caramelized with Shio-koji. Lower the heat If The garlic looks becoming brown too fast.

Remove the shrimp and serve on brown rice or other grains of our choice.

Pour the shio-koji garlic mix over the shrimp and enjoy!
Notes
* Shio-koji already contains salt and you do not need to add extra salt!
* Make sure to get  shio-koji which package says "Nama(raw)" to make sure its enzymes are still active.
This post may contain affiliate links. It means that if you purchase products through that links, I get small commission from the company. You will not lose anything by doing so!
This recipe and content of this blog are created by Living My Nature. Please refrain from using it as your own and contact me if you would like to share.
Thank you!
---
---