Gluten free Zunda (edamame) filled muffins, naturally sweetened with Amazake!
Do you like edamame?
Edamame would be one of the most popular appetizer in Japanese restaurants outside Japan.
Also I have seen they are popularly used in dishes like salads or stir-fry. 
In Japan edamame is typical "otsumami (anything eaten with alcohol drinks)" for cold beer during summer season. 
But did you know that edamame can be made into paste to be transformed into many dishes including these gluten free zunda (edamame) filled muffins??
Zunda refers to green paste made from emamame or fava bean and traditionally used in local food of Tohoku (northern area) area of Japan.
Zunda paste has been traditionally used in savory dish as a thick 'dressing' or as a topping for Mochi (sticky rice cake) but it has gaining popularity throughout Japan, and has been developed into many sweet dessert such as  milk shake, ice cream, cake or rolled cake, to name a few.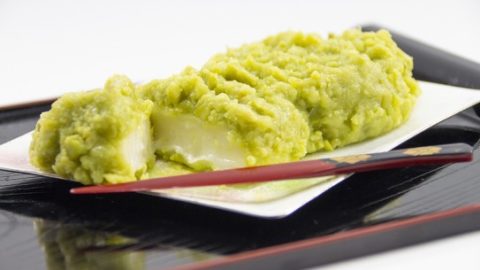 To be honest, I am not particularly fond of edamame itslef although certainly I do not dislike it, but it's jmjust not something that I actively order or buy when I see them in the restaurant or shops.
But when it comes so Zunda (edamame paste), I'm different.
When edamame beans are made into paste, it feels like their earthy and fragrant aroma become so enhanced that with a tiny bit of sake, salt or soy sauce, or sweetener the it can work as a 'dressing'.
Particularly I like sweet one. They are so rich, creamy and yet light. Probably you would not tell it is made with edamame if you try with blinded eyes. 
And the other day I saw edamame were sold at 'summer seasonal section' in my local supermarket. 
I was looking for inspiration for my new baking and instantly I thought "That's it! I need to use Edamame as my seasonal baking!"
Here is how these cute muffins are created:)
These muffins are sugar free and are naturally sweetened with Amazake, Japanese fermented rice drink. 
You may think "Yak, fermented rice?! It must be sour!" but no, no worries!! Amazake is very sweet, sweet enough to be used as a sweeter for healthy dessert like these edamame muffins. Not only it has nice aroma that enhance the richness and flavor of the baked dessert, it has many healthy benefits!!! 
Check my previous blog "Gluten free carrot zucchini Amazake muffins" for more information!
Amazake has much less sweetness compared to other popular liquid sweeteners such as honey  or maple syrup. Consequently the products are much less sweeter than regular ones and intensionally I did not increase the amount of Amazake in this recipe. 
Because  I want them to be eaten (safely) as regular snacks and most of regular muffins or dessert even "healthy" ones with maple syrup or honey, I find them to be too sweet as regular snacks. 
The more you eat sweet food the more your taste buds want sweet taste. I don't want to see natural sugars as "bad" or "evil" like some "health experts" say, but it is the fact that consuming TOO MUCH sugar cause various health problems.
So these muffins has slight sweetness, rather savory side, and are great for your regular to go snack or for your kids snack.
But if you really want them to be sweeter you can try half Amazake and use the other half with maple syrup.
To make "Zunda" 'edamame paste";
Let's see how to make zunda.
It is so easy! 
Just place cooked edamame in food processor together with tiny pinch of salt and Amazake and make them into paste.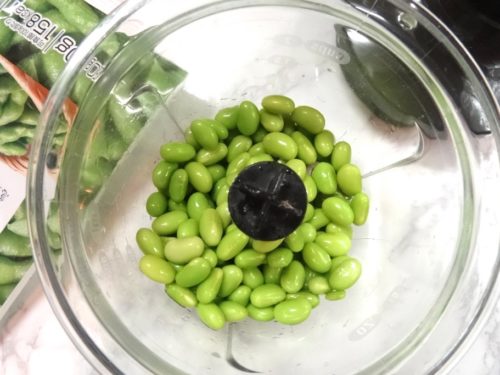 Be careful not to make it too smooth because you want some 'crunchiness' of edamame to enjoy its texture.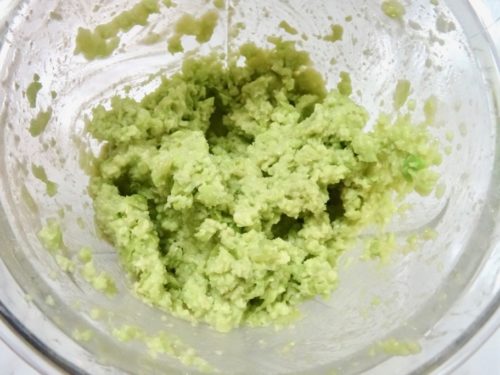 I used Amazake to sweeten this edamame filling too but if you want to make sweeter I believe you could use maple syrup or honey (I have not tried them so cannot promise the result!)
Muffin batter
 This is my first time trying gluten free baking without egg.
I used to worry about the products not rise well or becoming crumby but with this muffin recipe and it worked just great even without "chia/ flax egg". 
I used my own gluten free flour blend of brown rice flour, tapioca flour and potato starch but of course you can use your favorite gluten free all purpose flour too. 
Add wet ingredients to prepared dry ingredients and combine them together in a large bowl.
Scoop the batter into a muffin tin,  make a dent in the middle and top each muffin with Zunda paste.
And bake these muffins in preheated oven for about 25-30 minutes. 
You can check if they are done after 25 minutes  by inserting a toothpick in the middle, it will be free of batter when it is baked through.
Let the muffins cool in the tin  before removing them otherwise they are going to fall apart!
These muffins can be enjoyed whether served hot or cold. 
You can have them right way or they are also keep well in an airtight container in the fridge for a several days, or in freezer for a month.
Enjoy these healthy edamame muffins for your summer breakfast, mid day snack, or a dessert!
Not only they are healthy but importantly they taste great!
Try making these Zunda (edamame) filled muffins  and let me know your experience!
Check out the ingredients
Gluten free Zunda (edamame) filled muffins
Fresh and moist muffins filled with fragrant slightly sweetened edamame paste, Zunda! They are gluten free, vegan and minimally sweetened with Amazake (Japanese fermented rice drink).
Bright green color of edamame make these muffin perfect for summer fun snacks!
Servings
6
regular size muffins
Ingredients
Dry ingredients;
100

g

Gluten free all purpose flour

- *see the recipe note

50

g

Almond flour

1

tsp

Baking powder

1/2

tsp

Baking soda

1/4

tsp

Xanthan gum

pinch

sea salt
Wet ingredients;
80

ml (1/3cup)

Plant based milk, room temperature

-

such as almond milk, coconut milk

2 1/2

tbsp

Coconut oil

-

melted

1/2

tbsp

Lemon juice, room temperature

1/4 cup

& 1/2 tbsp

Amazake , room temperature

- *see the recipe note
Zunda (edamame) paste
140

g

Cooked edamame, shelled

-

You can use frozen or buy fresh one and boiled

A little less than

1/4cup

Amazake

- *see the recipe note

pinch

sea salt
Instructions
coat with oil or place paper muffin cups in a muffin tin.

Preheat the oven at 180℃ (360°F)
Make Zunda (edamame paste)
To cook fresh edamame;

Add in-shell edamame into a pot of boiling water with pinch of salt and cook until the beans inside the pods are tender about 5 minutes. Drain, rinse with cold water to cool, and shell each pod.

Alternatively, you can use frozen and thawed edamame as an easier option.

Place shelled edamame in a food processor, add salt, and Amazake and make the mixture into a paste. Do not completely process it but leave it a little 'lumpy'. Set aside while preparing muffin dough.
Make muffin dough;
Mix all dry ingredients in a large bowl, set aside.

In a smaller bowl combine all wet ingredients. Make sure all ingredients are at room temperature, or coconut oil gets solid!

Pour wet ingredient mixture over dry ingredients and stir until combined.

Divide the batter in a 6-hole muffin tin and make a dent in the middle of each muffin.

In each dent fill prepared edamame paste.

Bake muffins for 25-30 minutes, until golden brown and center is set. (check if they are done by inserting a toothpick in the middle, it will be free of batter).

Place muffins on cooling rack to cool them before taken out .

Enjoy right away or store them in airtight container.
Notes
* I used my own gluten free flour blend of 240g brown rice flour, 80g potato starch and 40g tapioca flour (used 100g out of this blend). You can use this blend, your own gluten free all purpose blend or store-bought one.
** Amazake is Japanese fermented rice drink (read recipe description above or check my Gluten free carrot and zucchini amazake muffin for more detail.
You can ask at your local Japanese grocery store for availability or obtains it

here.


Each Amazake has different consistency depending on its brand so you may need to adjust the amount of liquid accordingly. This brand works well with this recipe. 
*** To use maple syrup instead of amazake, use 1/4 cup of maple syrup for muffin batter and 3 tbsp  for edamame paste. It will have more sugar, hence the muffins will be sweeter. 
This post may contain affiliate links. It means that if you purchase products through that links, I get small commission from the company. You will not lose anything by doing so!
This recipe and content of this blog are created by Living My Nature. Please refrain from using it as your own and contact me if you would like to share.
Thank you!
---
---