Gluten free carrot zucchini muffins, naturally sweetened with Amazake!
Healthy and fluffy gluten free carrot and zucchini muffin naturally sweetened with Japanese fermented rice drink, Amazake. Let's get health benefit of probiotics with baked dessert that everyone loves!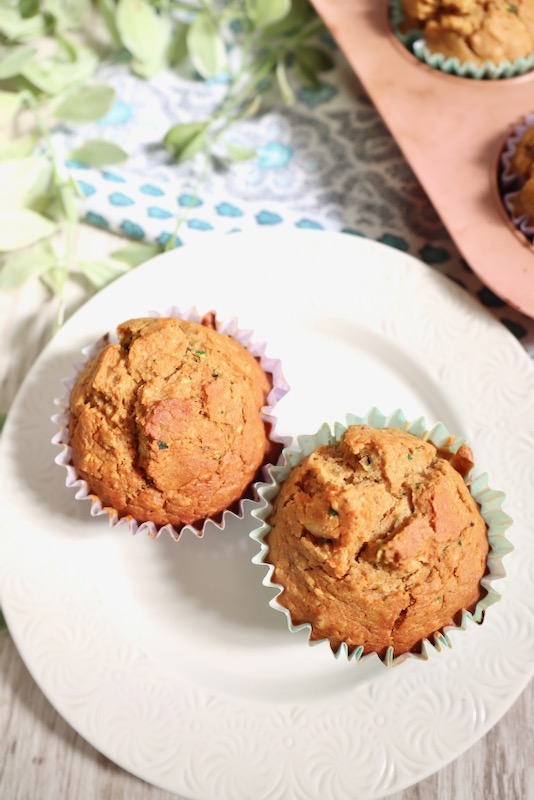 There are many "healthy" version of muffin recipes  online these days, like carrot zucchini muffins.
These "health conscious" muffins are usually sweetened with natural sweetener such as coconut sugar/syrup, honey or maple syrup. 
Yeah, they are healthy alternative to processed sugar but has anyone wish to get actually 'benefit' from the sweetener? 
Is there actually that kind of "healthy" sweetener?
Yes, there is!!
It is called Amazake. Well, actually it is not a sweetener but is a traditional drink in Japan.
Amazake (甘酒 ) literally means 甘(sweet)酒(alcohol).
This traditional Japanese drink is made  with fermented rice and has creamy consistency with sweet and nice flavor.
It is especially popular in Japan during New Year season and many shrines has Amazake stalls to welcome their visitors who come to pray for good new year.
It has gaining popularity in Japan again recently for its health benefits and many supermarkets has Amazake section with many varieties.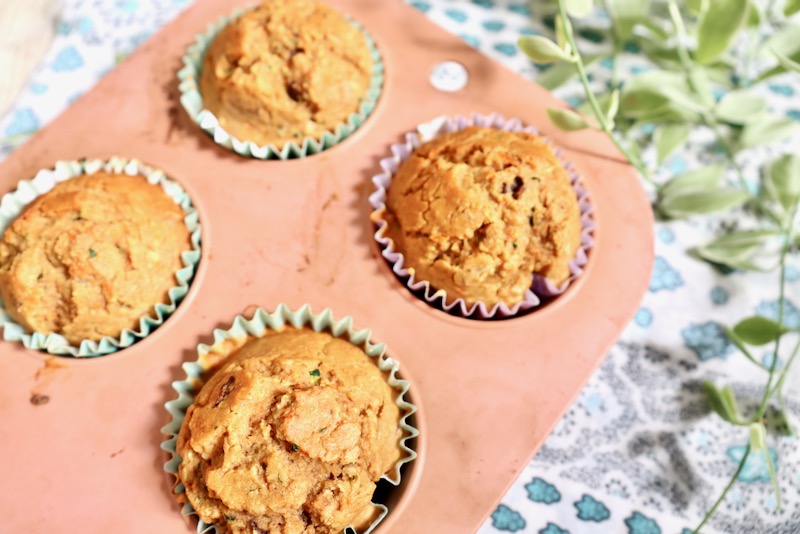 Many of you may wonder about the word "alcohol" and think "no I cannot use that".
Well, actually tow different kinds of amazake depend on how it is made, and one contains alcohol and the other  does not.
 Amaszake made with Sake Lees (酒粕sake-kasu)

 
This is one type of Amazake which is made by dissolving  Sake Lees (酒粕) in water.
Sugar is usually added to sweeten it. Because sake lees itself contains alcohol this type of Amazake is alcohol drink (the content of alcohols differs depending on how much water or heat added, but Sake lees itself contains about 8%  of alcohol per 100g)
 2. Amazake made with Rice Koji (米麹kome-kouji)
Another type of Amazake is made with Rice Koji(米麹).
Rice Koji is cooked rice that have been inoculated with Koji mold (Aspergillus oryzae).
Koji mold is naturally occurring culture and in Japan it has been used over the centuries has been used to make traditional fermentd food such as miso, soy sauce, mirin or sake.
Rice koji Amazake is made by fermenting rice with koji for about 10 hours at 50-60℃ ( 125-140°F) . This type of Amazake does not contain added sugar because the  sweetness is derived  from sugar/ glucose  that koji mold breaks down the starch during fermentation.
It hardly contains alcohol so  is more suitable for kids and pregnant mom.
Also if you want to make a naturally sweetened dessert rice koji Amazake is the one that you want to use for.
health benefits of Amazake
I will post another post about Amazake in detail but one of the reason of its popularity is its nutritional value and various healthy benefits are reported including better skin and hair, better digestion, and boosting energy and more.
Not only Amazake has probiotic in it but also contains various nutrients including Vitamin B1, B2, B5, B6, Niacin, fiber, 9 essential amino acids, oigosacchairide (a type of sugar that our friendly gut bacteria loves!), as well as many digestive enzymes!
In fact because the nutritional content of Amazake, especially the latter type, is very similar to Intravenous drip it is often called "drinkable IV drip".
Having said that, it is high sugar drink even non sugar added type.
I would not recommend to use it as a regular drink. It was created when the food source was not stable and was helpful to prevent deaths from dehydration and starvation but we do not need to boost our blood sugar by drinking it in this modern age, don't we?
I think Amazake is a great source as a healthy sweetener is perfect for this carrot zucchini muffins, scones, granola and other bakings or even for dressing and sauces!
It gives mild sweetness with nice flavor to the products.
Actually they will be much less sweet than ones that are made with regular sweetener, however, I think it is other element that makes the them (the ones with Amazake) healthier. 
Not only commercial desserts, but also  I feel that many "healthy" sweet recipes are high in sugar. If you keep eating the foods that are too high in sugar, then your taste buds are used to that level of sweetness and will crave more sweetness!!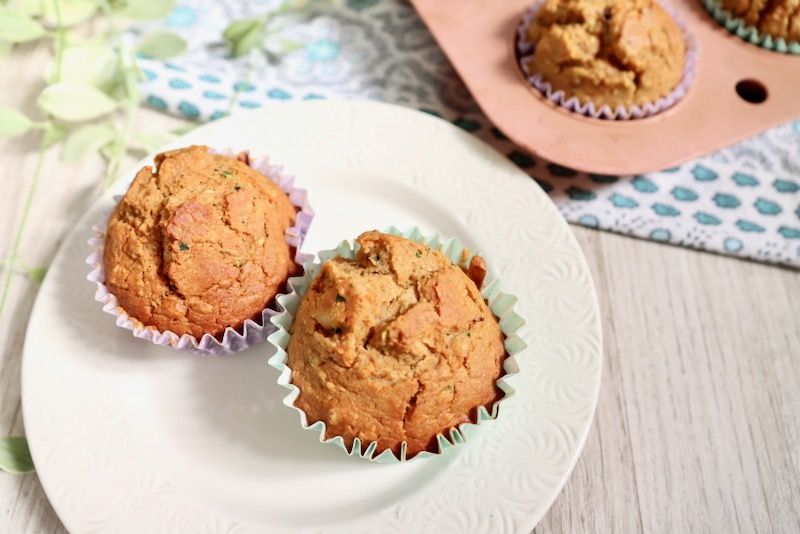 So these carrot zucchini muffins are  for you to enjoy treats while caring for your health.

They are not only healthy but also very moist and delicious!
They are great for busy morning as a breakfast or a snack.
You can buy Amazake in online shop like Amazon or your local Japanese store may have it. 

Try these healthy carrot zucchini muffins and let me know how you like them!!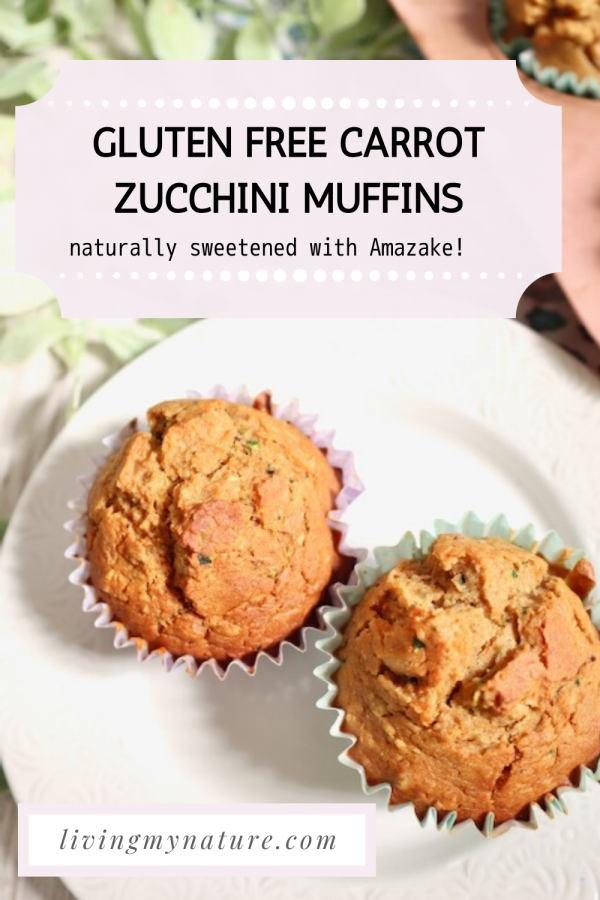 Gluten free carrot zucchini muffins
Healthy and fluffy gluten free carrot and zucchini muffin naturally sweetened with Japanese fermented rice drink, Amazake. Let's get health benefit of probiotics with baked dessert that everyone loves!
Ingredients
Dry ingredients;
120

g

Gluten free all purpose flour

30

g

Almond flour

1½

tsp

Baking powder

½

tsp

Baking soda

1

tsp

Cinnamon

½

tsp

Nutmeg

½

tsp

Sea salt

½

tsp

agar

-

omit if your gluten free flour contains xhanthan gum
Wet ingredients;
½

medium carrot (80g/2.8oz)

-

roughly chopped

½

medium zucchini (80g/ 2.8oz)

4

tbsp

coconut oil

-

melted

1

egg

½

tsp

vanilla extract

⅓

cup

Amazake (80g)

¼

cup

walnut

-

chopped
Instructions
Preheat the oven at 180°. Oil coat or place muffin cup in muffin tin.

I a large bowl place all dry ingredients and mix with whisk until they are well mixed.

In a food processor place prepared carrot and zucchini and chop them finely.

Add in melted coconut oil, egg, vanilla extract and amazake and process until they are well mixed.

Pour wet ingredients into dry ingredients, add chopped walnuts and mix until they are evenly combined.

Scoop the batter into a oil coated muffin tin, filling each muffin evenly.

bake for 25-30 mins until they are cooked through.
Notes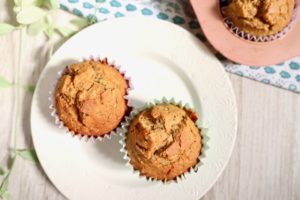 These muffins have subtle sweetness from Amazake and perfect for busy breakfast, snack or for dessert. 
Amazake is available at Amazon

here

or maybe found in Japanese store near you. 
Each amazake brand has different consistency so adjust the amount of liquid accordingly. 
If you cannot get Amazake, substitute it with 60ml maple syrup+ 20ml non dairy milk (you may need more or less).
This post may contain affiliate links. It means that if you purchase products through that links, I get small commission from the company. You will not lose anything by doing so!
This recipe and content of this blog are created by Living My Nature. Please refrain from using it as your own and contact me if you would like to share.
Thank you!
---
---