Sweet and salty miso-glazed walnut pumpkin
Crunchy, fragrant, sweet and salty miso-glazed walnut pumpkin can be served not only as a side dish or on the rice but also tastes great on your toast too!
With enzymes and probiotics from miso, antioxidant from pumpkin and healthy fat from walnut…this miso-glazed pumpkin also has many healthy benefits that will support your health.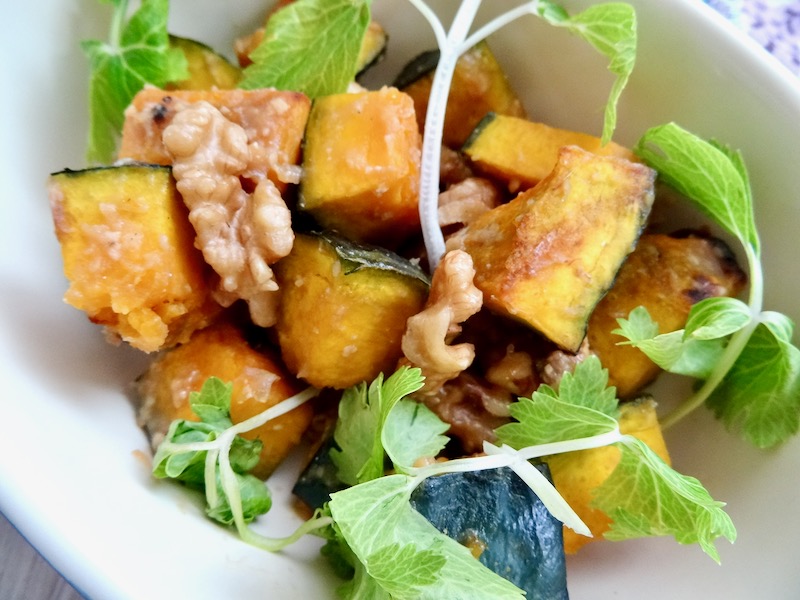 Let me show you how to make this beautiful walnut and pumpkin dish with both nutritional and practical tips!!
Pumpkin is one of most popular vegetables that are used worldwide and you are probably aware that it goes so well with walnuts, right? 
But do you know that pumpkin can work as a great partner with  miso? 
And that goes same for miso and walnuts?
Also miso and maple syrup?
And you would know that walnut and maple syrup are best combination.
So basically this sweet and salty miso-glazed walnut pumpkin is just a collection of most powerful golden combo!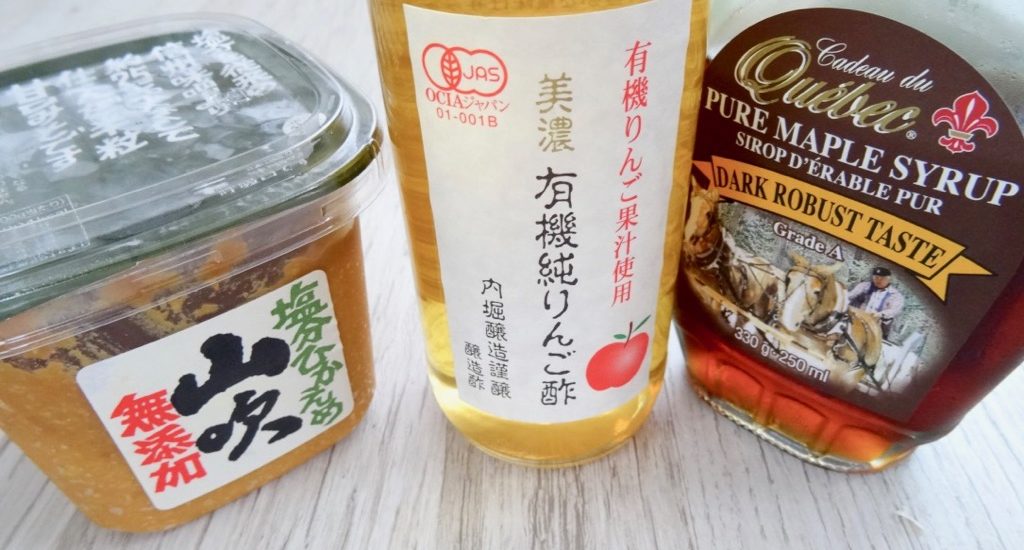 Miso
Probably most of you know what is miso or at least have heard of it.
Miso has been part of our Japanese cultures for over 1300 years and is believed to be one of factors that make Japanese diet  so healthy.
How miso is made?
Miso is made by fermenting soy beans with rice/barley/ soy bean Koji  as a starter, which refers to these foods that have been inoculated with koji fungi. 
Depend on which starter is used to make miso, it is called Mugi(berley) miso, Mame(soy bean) miso, or Kome(rice) miso.
As a probiotic food miso is rich in mineral, good source of B vitamins, vitamin K, vitamin E and folic acids as well as essential amino acids and enzymes and provides many beneficial bacteria in our gut.
This highly nutritious food is believed to have many health benefits including digestive support, lowering blood pressure, fighting with cancer, and lowering the risk of dementia and many others. 
During the fermentation process the proteins gets broken down into amino acids, which provide "umami" (the 5th taste sense) adding richer flavor to the dish.
Miso soup would be the most popular miso dish but don't limit yourself to the soup! Miso can be used in any dish your can thinks of; sources/ dressing, fish dish, meat dish, marinade or even in the dessert!!
And in this sweet and salty miso-glazed walnut pumpkin is one of them!
The sweetness of the pumpkin  and the saltiness of the miso creates nice harmony in the flavor. 
 There are red, yellow and white miso but please make sure to use yellow type miso for this recipe, not the white or red ones.
Red one has too intense and salty flavor and the white one is too sweet for this recipe. 
The yellow one (also referred as 'shinsyu信州 miso') has the right balance of saltiness and mildness and works best in many dishes including this miso glazed walnut pumpkin recipe.

The product that I liked above says "white miso" but actually is yellow type Shinsyu信州 miso. 
It is confusing, I know. 
In many English sites gives you the types of miso as red, white and yellow, however in Japan, miso is broken down into only red or white. 
Shinsyu信州 miso is  categorized as white in Japan but it would be categorized as 'yellow' as in English explanation. 


Maple syrup;
To add a little more sweetness I used maple syrup because, in my opinion, caramel like flavor of maple syrup just goes really well with the flavor of miso, pumpkin and walnuts!
Apple cider vinegar;
Although most of similar recipes like this in japan does not use vinegar,  I wanted to experiment using apple cider vinegar to balancing the taste because I wanted this recipe to taste "lighter". 
Those recipes (pumpkin and miso dish) often involve a lot of miso(salt) and sugar.
Naturally if you eat highly palatable foods with high salt, high sugar, or intense flavor (like in MSG) you will want to eat more rice to `balance out the taste' .
And sadly many Japanese people like these type of food to enjoy eating rice !
As you can imagine the problem is you may overeat the rice, not to mention consuming too much salt, and end up taking more carbohydrate than your body actually needs. 
I am not advocating low carb diet here but consuming too much of anything is not the best thing for our body to function optimally. 
So adding vinegar helps reducing the use of Miso(salt)  without making you feel something missing so that you can still feel satisfied when you eat it.
Walnuts;
Although the pumpkin is the "main" ingredient of this recipe, walnuts are equally important as pumpkin!!
It adds fun crunchy texture, makes the dish richer and 'must have' item to complete this dish.
Also adding walnuts is a great way to enhance the nutritional value to vegetable dish which tends to lack in certain nutrients.
They are rich in healthy fats and anti-oxidants and good source for several vitamins and minerals such as  copper, folic acid, phosphorus, vitamin B6, manganese, and vitamin E.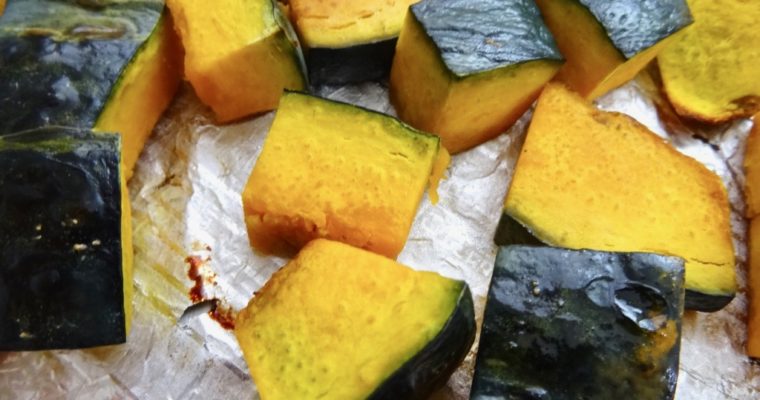 My sweet and salty miso-glazed walnut pumpkin takes only three steps and is very easy to make!!
Cut
Roast/ bake
Mix
Cut pumpkin.

 Cup pumpkin into cubes. Make sure you use "pumpkin" squash not other squash types such as butternut or acorn squash which have more water content.

I would recommend using Kabocha squash or Hokkaido pumpkin  because it is the one that is generally used in Japan and will work best in this recipe.




Grill/ roast pumpkin with coconut oil for about 30-35 minutes

To coat the pumpkin I used coconut oil because as a saturated fats it is more heat stable than other popular 'healthy' oils like olive oil. 
I like grilling/ roasting pumpkin rather than boiling or steaming because it increase nice nutty flavor and crunchiness to it.
I grilled pumpkin because I made smaller batch and it is more convenient to prepare. But if you want to make bigger batch or do not have grilling you can also roast it.




3. Mix together.

While the pumpkin is being cooked prepare and mix the dressing.
Once the pumpkin is done stir in the dressing with roasted walnuts and coat the pumpkin evenly.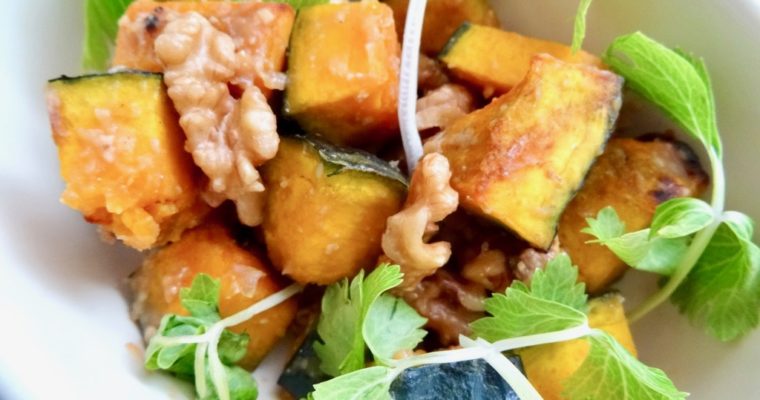 Very easy, right??
This sweet and salty miso glazed pumpkin can be served as a side dish, as a healthy snack, into your buddha bowl or even on the toast!!
Try and experience the healthy version of Japanese pumpkin and miso recipe and let me know how you like it.
Please feel free to leave leave your thoughts, questions or ideas in the comment section below.
I look forward to hear from you all!!
Sweet and salty miso-glazed walnut pumpkin
Crunchy, fragrant, sweet and salty miso-glazed walnut pumpkin can be served not only as a side dish or on the rice but also tastes great on your toast too!
With enzymes and probiotics from miso, antioxidant from pumpkin and healthy fat from walnut...this miso-glazed pumpkin also has many healthy benefits that will support your health.
Ingredients
4

cups

Kabocha pumpkin/ squash, cut into 2.5 cm (1inch) cube

- Kuri kabocha/ squash woks well too

1

tbsp

coconut oil

1

pinch

salt
Sweet and salty miso dressing
4

tbsp

Miso

- chose yellow miso, See the recipe note below

2

tbsp

maple syrup

2

tbsp

apple cider vinegar
To assemble;
roasted walnuts

- also you can make your own roasted walnuts

Any green of your choice ( I used mizuna)

- (optional)
Instructions
Preheat the oven to 200℃ (400℉).

Line the oven tray with parchment paper/ oil coated foil.

In a bowl combine pumpkin cubes, coconut oil and pinch of salt and coat the pumpkin cubes evenly.

On prepared oven tay, place the pumpkin mixture and for 15 minutes.

Remove from oven to toss, then roast for another 10-15 minutes, or until tender with a few brown spots.

Meanwhile, make the miso dressing. In a small bowl, whisk together all of the ingredients until well combined.

Remove the pumpkin from the oven when it is done and transfer to a bowl, gently toss with miso dressing and walnuts.

Garnish with green leaf and serve.
Notes
Choosing miso;
Make sure to choose yellow miso, not red or white miso for this recipe (please read the blog above). I like using Shinsyu(信州)miso because it has mild flavor with the right balance of sweetness and saltiness and can work in various types of dishes. 
***the product that I linked says "white" but it is actually yellow Shinsyu miso type. The white miso looks really white***
This post may contain affiliate links. It means that if you purchase products through that links, I get small commission from the company. You will not lose anything by doing so!
This recipe and content of this blog are created by Living My Nature. Please refrain from using it as your own and contact me if you would like to share.
Thank you!
---
---